Facebook.Com post: Solution 2 Reconstruction members and friends.
Documents obtained from the State of Louisiana detailing how the state was going to pay it's Tier 1 contractors is illustrated in the two attached drawings.
First 3 feet is measure from average grade based on elevation certificate data.

If less than 3 feet is needed to elevation then the minimum is 2 feet.

Pilings driven are paid by linear foot and acceptable for CL soils or worse.

Concrete Grade Beam laterally supports pilings and columns and measures 1' by 2' can be above grade or below grade.

Slab foundation that laterally supports columns is acceptable up to 4" in thickness as a method used to stabilize columns. (Also known as raft foundation for a pier and beam)

Wood Timbers or CMU blocks are used as columns to elevate the structure.

Hardware, beams, joists, subfloor are all included in the costs of the reconstruction.
=== END POST ===
The images below represent what the Program developers of the Restore Louisiana Homeowners Program are trying to say and actually trying to do but they are over complicating the process and not documenting procedure to assure quality for each review of elevation costs.
The Program policy states the first 3 feet of elevation (minimum of 2 feet if no elevation is required.) is measured from average grade level. Average grade is recorded on the homeowners elevation certificate.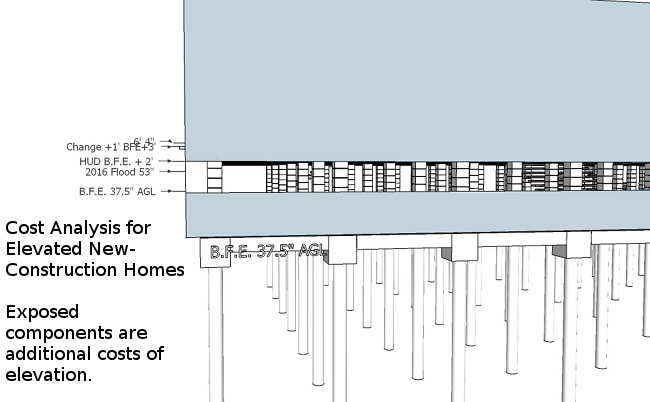 In the image above, pilings, footers, grade beams, and additional CMU blocks needed to achieve the proper elevation to match HUD CDBG-DR policy which is Base Flood Elevation plus an additional 2 feet.
Prices for the pilings, footers, grade beams, columns have all been documented since June 18, 2018 and are from the programs approved price guide (Xactimate May 16, 2017 Software)


Additional costs of elevation that need to be included in your contractors pricing.
Labor, Equipment, and Materials.
| | | |
| --- | --- | --- |
| Timber Piles | Linear Foot (LF) | $18 |
| Concrete Footings | Cubic Yard (CY) | $450 |
| CMU Blocks | Each | $15 |
| Stairs / Landings | Every Ft of Elevation | $400 |
| | | |
| Survey | Square Foot (SF) | $0.45 |
| Engineering | Square Foot (SF) | $1.90 |
| Elevation Certificate | Each | $500 |
| | | |
| | | |
The Program Management for Solution 2 hired by IEM seems not have have taken it's own elevation reports to apply current costs and grant awards for unmet needs with elevation. This research document will include a spreadsheet to calculate your total reimbursement based on policy and program provided documents.
What costs are included in the reconstruction price that are technically foundation components are as follows.
Material and Labor for elevation using any method from AGL to 3 feet above AGL.
Flooring system to include sub-floor, joists, beams, hardware required.
The image below identifies foundation components which are standard with all reconstruction projects within the program. Solution 1, 2, 3 all use the same policies regarding the first 3 feet of elevation is included in the costs to reconstruct the home and are not an additional cost or unmet need.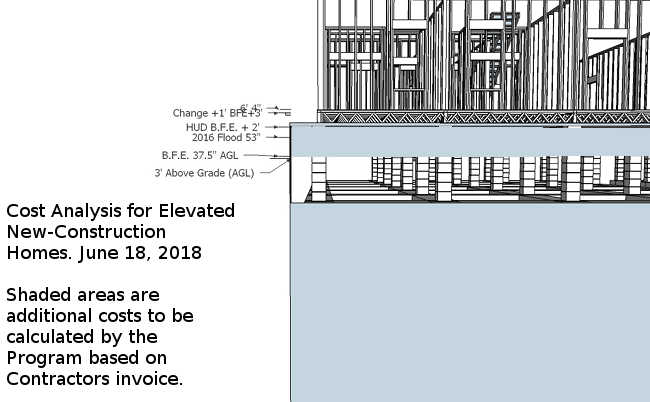 Calculations, formulas are available.
Contact Murray using the TruckAndTools.Com contact page.