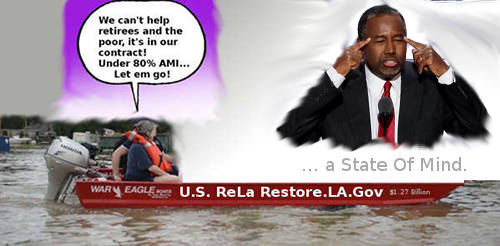 May 14, 2018
You're thankful in the beginning, we all were.
First to respond was you and household and family.
Second was your neighbors and neighborhood.
Third was people from across town.
Fourth was the out of area people.
Fifth was the out of state people.
Sixth was the local religious groups.
Seventh was the statewide religious groups.
Eighth was the out of state religious groups.
Ninth was statewide Not For Profit groups.
Tenth was State Services / information collection.
Eleventh was Federal State Services.
Twelfth was Federal National Services.
Thirteenth was FEMA Aid.
Fourteenth was Not For Profit Aid / Information collection.
Fifteenth was Small Business Administration low interest loans.
Sixteenth was NFIP Insurance adjusters.
Seventeenth was private insurance adjusters.
Eighteenth was Not of Profit structural services.
Nineteenth was Not for Profit mental health services.
Twentieth was local city / parish / county services structural inspections.
Twenty-first was parish / county liaison for federal relief services structural.
Twenty-second was federal relief services structural.
My list may actually match your list when you start putting each group down on paper in the order they walked down your street and toward your front door.
Some of you may have had more groups and agencies, others may have had less.
You may have been turned away from MRE and Food / Water pickup locations managed by local church leaders that noticed you had an out of state license plate but didn't ask if you were a disaster victim.
You also may have been asked by a neighbor that didn't know you were a neighbor to clear and clean their area.
I want you to join Truck And Tools and become an active partner with our community to rebuild the best you can after a disaster.
We are focused on helping budget repairs, creating a priority list of repairs and making government services work for you.
Surviving a disaster is difficult enough, being told lies or given misinformation is insulting to everyone's intelligence.
Being offered services on trust only to be defrauded by the same people offering services is criminal.
Let's work together, share our experiences, report our fraudsters, share our good workers, share our household secrets to a successful rebuild after the disaster.
We are all in the same group, we all are disaster survivors even when government agencies separate us by Disaster Relief ID numbers and state managed recovery resources.
Once you have a declared disaster area you are placed into a small group which local state and federal services will focus on. Disaster relief each and every disaster is new with very little change between each area and each person. We want to share this experience so we can focus more on national issues of disaster recovery that will in the end help us all recover faster.
Hurricane Katrina hit landfall August 29 2005, the survivors of Katrina were still waiting for federal aid which went out November 2017 with the total recovery project completed February 2018. Do you want the cycle of recovery to continue to be 10 to 13 years for each declared natural disaster? I bet not, let's help each other by sharing information and supporting the group to force our politicians to make changes that help speed up recovery times and increase the quality of recovery as well.