Reference Room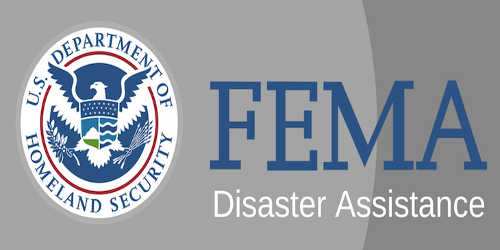 Sept. 21, 2016
KNOW THIS: FEMA is ONLY short term recovery. FEMA Trains all it's employees, temporary contractors the same. FEMA also trains your local city, county, parish, and state government Emergency Management agencies. This is why you will NEVER see the full recovery process on FEMA documents. This is why many of you will drop out of the recovery process and this is why MANY of you will lose your homes because of the delivery process and what is NOT said by FEMA.
FEMA tells you that your household needs to apply for IA and IHP grants.
FEMA sends damage determination letter called FEMA Verified Loss (FVL).
FEMA tells you to to apply to the SBA Disaster Loan program if you would like to continue with your disaster recovery.

FEMA may tell you that you must apply with the SBA and if declined by the SBA agency you will be referred back to FEMA for additional federal resources.
It is very rare this will ever happen and if it does you can expect maybe $7,000 or less in ONA (Other Needs Assistance) grants.
SBA will approve a loan for your household based on total income of $18,090 net per year.
SBA will approve your household if you have a credit score of 350 or more.
SBA will count all persons 15 years of age and older making a taxable income as part of the household income.
SBA will approve your loan based on the amount of insurance you have related to the disaster. Example: $150,000 in Flood insurance the SBA will lend that homeowner regardless of income or credit scores up to the maximum payout of the insurance policy.
SBA will approve your loan based on the collateral that was damaged and at pre-flood.
You're not told about HUD CDGB-DR grants that you may have been qualified for if you didn't apply to the SBA disaster Loan Program.
You're not told that Grants are awarded based on household income levels.
You're not told that if your household income is less than 80% AMI you will receive HUD CDBG-DR grants when they become available in about 12 months from the disaster month.
You're not told that if you take an SBA Disaster Loan that amount of the loan you are approved for will be counted as Duplication of Benefits against any future federal assistance even if you do not draw the full loan mount.

FEMA's Flowchart on Federal Assistance Delivery Sequence.
Our updated based on real world input to FEMA's flowchart on Federal Assistance - Delivery Sequence.
What we need to assist more disaster victims is this flowchart for Federal Assistance. FEMA to HUD / SBA Flowchart for a more balanced recovery process based on ability to take additional household debt.
Apply for FEMA assistance at: Disaster Assistance .Gov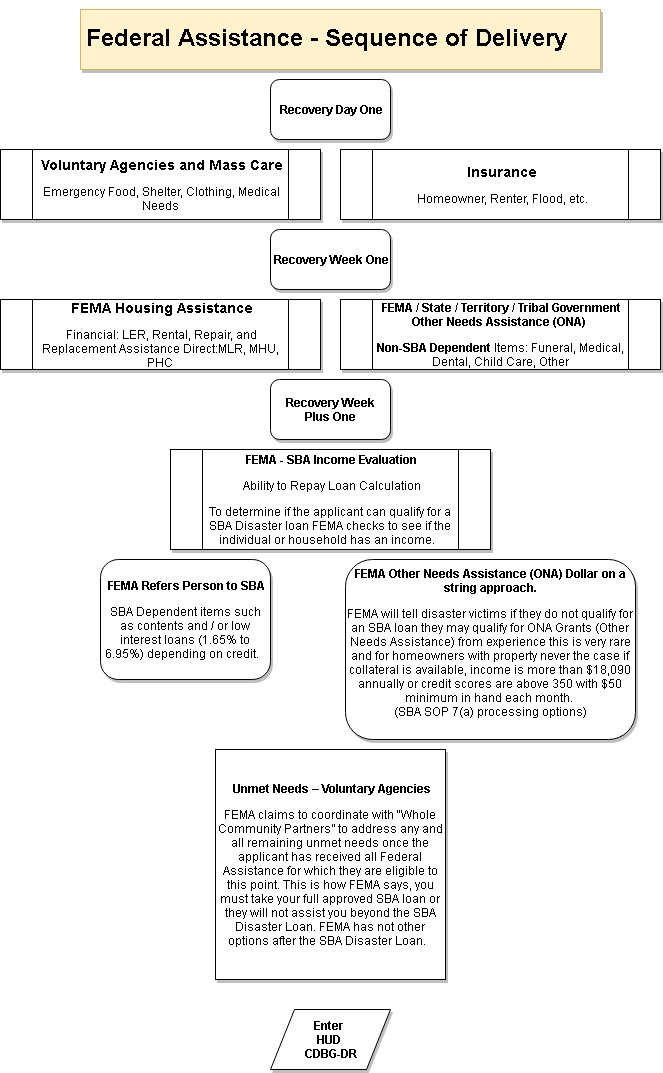 We have several grassroots programs which can help you if you interact with them. Don't think for a moment recovery will come knocking on your door. You have to go out and make it happen.

We'll help you build your advocacy group as well as help you with becoming a positive change activist.

Some groups you might be interested in.

Restore LA Program Info Exchange Focus: HUD CDBG-DR Grants, State Grantees, SBA DOB related to HUD Grants. Focus on HUD Recovery Grants and local state policies.
(Private Facebook.Com Group in Louisiana all are welcome.)
Stop FEMA Now Focus: FEMA Recovery efforts, SBA Disaster Loans, Long term recovery focus on Super storm Sandy Victims. (Public Facebook.Com Group based out of New Jersey.)
SBA Disaster Recovery Loans Learn who should not apply. Learn what the SBA will do to approve you. Learn about low income homeowners without credit being offered loans by using their homes as collateral. Learn the truth about the SBA lending practices and how some homeowners would never be able to repay the loan.
(National group focused on SBA Disaster Loans and what the true costs are.)
Homeowner - Contractor Focus: Helping Homeowners self contract and manage their own hiring and firing of workers to get the job of recovery completed. We share our experiences and share our processes.
(Public Facebook.Com Group for homeowners managing their construction projects)
Disaster Recovery Reform Act (DRRA) Focus: Disaster Feedback in relationship to Congressional Representatives actions for better recovery processes. This is a mix of federal policy with homeowners feedback related to federal disaster recovery policy.

Proposed / Needed Groups:

State of XX HUD CDGB-DR Grantee: We need individuals that have time to administrate and moderate local groups focused on your state agencies that distribute HUD CDBG-DR grants. We will assist you with your setup and help you keep up with HUD policy as well as forecast what move your state will make within the program. We'll teach you how to be your states "Watchdog" to reduce government waste and to help guard against fraud against the American Taxpayers.
(Groups by state for HUD CDBG-DR Grant award assistance. Groups need to form before FEMA - SBA applicants are started.
Article Library
Renters, your FEMA assistance is called Individual Assistance or IA. FEMA can and should offer you grants to replace some of the items you have lost. This is not a substitute for renters insurance and this is not going to make you whole again.

COVID-19 protections allow FEMA to conduct remote inspections from August 22, 2020 on. This will now require the homeowners and property owners to collect all the damage assessment information. Do homeowners have FEMA Verified Loss training? Not yet, but.

Today, November 29, 2020 and what you do this coming week will change how your disaster recovery unfolds. Those that know the state of Louisiana OCD-DRU are working the numbers while others are going to be penalized as with every disaster in state.

What do you need to follow when your disaster area is setup with federal taxpayer dollars for Public Assistance? You need to watch what is on your governments agenda for spending to make sure the PA funds go to more services for the citizens.

I have covered Verified Loss as well as eligibility determinations by FEMA. Now I will cover the appeals process posted by FEMA for other disasters such as Hurricane Laura DR-4559 8-28-2020.

To help educate how FEMA interacts with disaster victims I will share with you the order of events and as many resources that I can find that are funded and ready to assist you the disaster victim.

After Hurricane Gustav many had forgot about the HMGP offered by FEMA. By the time Isaac cleanup was over the window to apply for these disasters for elevation and acquisitions were over. Dont miss out on your opportunity to use grants to mitigate damage

FEMA has some great media information, but like all glossy handouts, its missing the actual end user experiences and feedback. We never find customer complaints and it's always missing information they just seem to not share with disaster victims.

After you have read part one this is the part that ties it all together. This is from our 2016 Floods and our experience with FEMA Grants and the Duplication of Benefits issue we all face when HUD CDBG-DR grants become available.

FEMA may have awarded you up to 30,000 in Individual and Households grants called IHP and they may have listed that this grant is for Home Repairs. Your letter will say home repairs and you might think everything in your home is repairable, right?
NOTE: If your state has not been setup, please view Louisiana for disaster recovery information.