What you will find on your substantial damage letter generated by FEMA Substantial Damage Estimator software
A detailed look at what you will find on your FEMA Substantial Damage Estimator SDE output. For more details about each section I recommend that you read the SDE 3.0 User Manual and Field Workbook published by FEMA for the SDE software.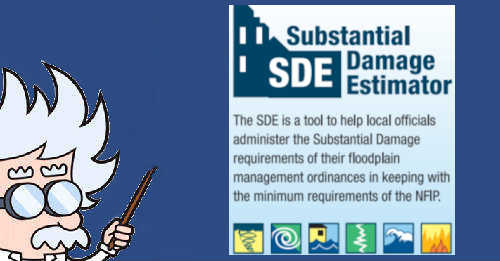 Trade Contractors Wanted!
We are looking for Skilled Trade Contractors for remodeling, repair, reconstruction and new construction of residential homes. You must be willing to work at 20% overhead / commission. Contact us today!.
Substantial Damage Estimator
Subdivision
Subdivision
Parcel#
Lot Number
Elev. of Lowest Floor
Datum
Community
NFIP Community NAME
NFIP Community ID #
Latitude
Longitude
Building Address
Owner's NAME
Street Address
City
County
State
Zip
Phone
Additional Owner(s)
Building Information
Year of Construction
Type
Quality
Damage Information
Date of Inspection
Inspected by
Inspector Phone
Date of Damage
Cause of Damage
Duration of Flood
Est. depth above lowest floor
Resident Information
NFIP Information
Firm Panel #
Suffix
Date of FIRM Panel
Firm Zone
BFE
Regulatory Floodway
Percent Damaged
Value of Building
Percent Damaged
Cost of Repairs / Improvements
Damage Summary
Replacement Cost
Depreciation %
Computed Actual Cash Value
(Per FEMA Publication 213, Actual Cash Value may be used as Market Value)
Optional User Entered Data
Professional Appraisal
Tax Assessment
Factor Adjustment
Adjusted Tax Assessed Value
Contractor's Estimate of Repairs / Improvements
Community's Estimate of Repairs / Improvements
Authorized Local Official: (Signature)
Research Resource:
Do you all know Cunningham's Law?
"The best way to get the right answer on the internet is not to ask a question; it's to post the wrong answer."
Don't allow misleading or misinformation to cost you. Nearly all of the wrong answers come from not knowing where and how to search for the correct answers.