Appeal FEMA inspector verified loss determination. You need $8,000 in damages to qualify for HUD CBDG-DR Grant
Appeal FEMA using these two sample pages and documents to write your appeal to FEMA and your states CDBG-DR for those that have not been allowed into the program because of the FVL FEMA Verified Loss being below 8,000 or 12" of water.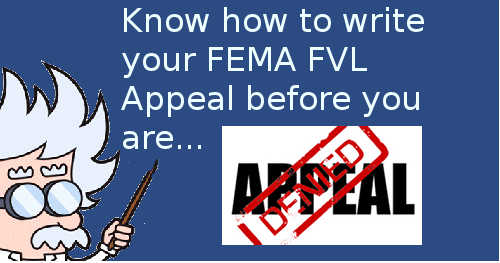 Do you all know Cunningham's Law?
"The best way to get the right answer on the internet is not to ask a question; it's to post the wrong answer."
Don't allow misleading or misinformation to cost you. Nearly all of the wrong answers come from not knowing where and how to search for the correct answers.
This is a two part public assistance post created by homeowners in Louisiana after our 2016 Floods DR-4263 and DR-4277. Please read the second post for more details regarding how your repair estimates from your licensed contractor have to be and other resources we have prepared for you to help you with your disaster recovery.
More details are provided from this post: "What to expect when you register with FEMA after your disaster from a homeowners point of view."
Always Appeal when Denied, ALWAYS!
Download PDF or DOCX version of this document/page. The contractor estimate example is listed in the resources section at the end of this article.
Disaster Survivors Name
Date of Birth
Damaged dwelling addressed
DR-XXXX
FEMA Registration # 1234567890

To: Whom It May Concern:
This letter is sent to Appeal the Inspector's report of damages to my home as a result of the recent floods in [NAME OF TOWN, COUNTY/PARISH, STATE]. The Inspector was unable to enter a bedroom because the sliding doors to the bedroom were jammed and would not slide back into the wall. All of the contents in the bedroom were destroyed. Since that time, the "All Hand Volunteers" removed the doors and the contents from the room. The Chief Client Services Coordinator for the "All Hand Volunteers" said he would verify the lost of contents in the bedroom. In addition, I was unaware of the deadline to request an appeal however, I have attached pictures of the damaged contents from the bedroom. Would you please consider these losses in addition to those determined by the Inspector. Any consideration you may give to my request will be appreciated.
(adjust this according to what is being appealed)
(The following line is required)
I do hereby declare under perjury that the foregoing is true and correct.
Sincerely,
Signature_______________________
If someone other than the survivor is writing the letter, a statement must be included stating that the person may act on survivors behalf. Survivor MUST sign the letter. IF they are unable to write, have them put an X in signature line and you or whoever is acting on their behalf must explain.
Documents that must be included:
Licensed contractors estimates / proposal which must contain the contractors name, phone number, and a detailed line items of repair specifically indicating quantity and costs associated with each line item.
This appeal letter must be submitted to the NPSC via mail to:
FEMA P.O. Box 10055 - Hyattsville, MD 20782 or fax 800-827-8112
============
Resources that may help:
Watchdog Moderators:
You spend countless hours researching disaster recovery for the citizens of your state. You research your state leadership and it's workforce on all matters associated with disaster recovery. You make it your concern to help others by providing much needed information. You take all disaster recovery issues facing homeowners today and make them your Matters Under Review. If this sounds like you, visit Matters Under Review (MUR) for more information.