Permit Application Denham Springs LA. Learn the Cost Formula before you write the check!
When you need to learn how the city, county, parish calculates the value of your new home. Its could be better to use the formula your municipality offers instead of guessing what the value for your new construction project is.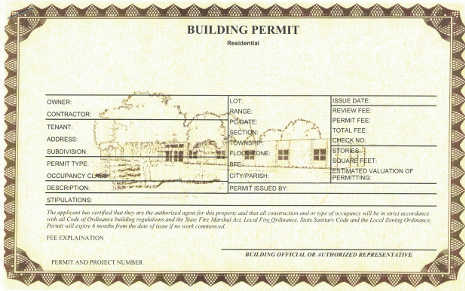 Permit Application Denham Springs LA.
When you apply for a permit in Denham Springs you will be asked the value of your home. Before you go telling the city what you plan to sell your home for or what you feel the market value of your home will be when completed you might like to read the cities $80/sf process.
We made a mistake and listed what our old homes insurance replacement cost would be. We totally forgot about the city evaluating our home at $80/sf for damages and we didn't know about the $80/sf permit rule before we signed the check for permits.
Now that we know we are going to apply once again for a refund based on city codes. Why the city allowed a homeowner to guess the value of a home is beyond me. But now that we know the formula we thought it would be a good thing to share with others.
Damage assessments were calculated using $80 per square foot of value. Default value for new residential buildings are also calculated at $80 per square foot.
This is how the formula looks.
2,718 square foot home living space only.
2,718 * $80 = $217,440
First $100,000 = $300 which is calculated as $3.00 per every $1,000.00 (100,000/1,000) = 100 * $3.00 = $300.00
Each $100,000 over is calculated at $2.00 per every 1,000.00 (117,440/1,000) = 117.44 * $2.00 = $234.88
The total using the cities formula would be $534.88, be sure you don't overpay for permits.
Resources: