Research based learning
"Providing resource supported answers."
We accept homeowner questions related to residential homes.
Homeowner questions about navigating Disaster Recovery programs.
Audio & Video topic scripts offer homeowner insight to issues with modern day disaster recovery.
For more than 561 days (June 16, 2017) a small group of independent contractors within the Restore La Homeowners Program Solution 2 Reconstruction have changed rules and policy so much that homeowners have questioned their ability to manage.
Our research discovered the Restore La Program controlled by IEM and with little oversight from the state of Louisiana OCD-DRU controlled by Governor John Bel Edwards did hired via IEM Inc incompetent independent contractors and self employed temporary workers to; "Handle" homeowners instead of manage recovery efforts.
If you know a Solution 2 Reconstruction homeowner we are asking that you refer them to us, we have a small group that is not taking the incompetence of IEM temporary hires anymore. We demand ethical standards and non bias contractors that do not single out homeowners and refuse information to those same homeowners. Unwarranted delays and additional financial debt is the only clearly identifiable management path that IEM has been successful at.
This coming year, 2019 will tell the homeowners story as compared to those claiming to be disaster management experts.
We no longer accept the "It's complicated" excuse for program misconduct.
Share the image linked below.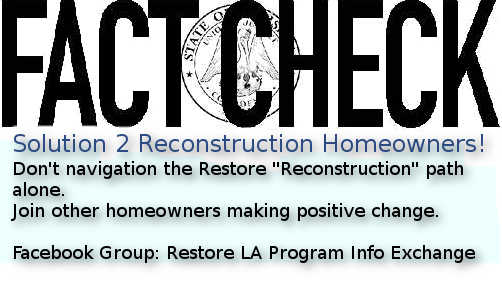 Date: 12-30-2018 Updated: 12-30-2018 Subject: Fact Check
First week in January 2019 I'll be looking up every building and zoning contact person in every city and parish to ask one simple question.
"Will you be changing your Base Flood Elevation requirements to match that of HUD CDBG-DR Base Flood Elevation?"
Would you support a petition to your parish or city asking them to match HUD required elevation if higher than FEMA or the current city or parish requirement?
This research is schedule for Jan 3, 2019 and will run until every parish or city responds to the question.
Date: 12-30-2018 Updated: 12-30-2018 Subject: Local Government
FEMA U.S. Department of Homeland Security Washington, DC 20528
December 21, 2018
TO: Honorable Jon Bel Edwards
P.O. Box 94004
Baton Rouge, LA 70804
Dear Governor Edwards:
This letter is in response to your correspondence to President Trump, dated November 27, 2018, requesting that the President waive any requirements that Small Business Administration (SBA) loans are a prohibited duplication of benefit with Community Development Block Grant (CDBG) funding. The President requested I respond.
Section 312 of the Robert T. Stafford Disaster Relief and Emergency Assistance Act (Stafford Act) (42 U.S.C. 5155) prohibits federal agencies from providing disaster relief for a loss in the form of financial assistance for which an individual or entity has received financial assistance under another program, insurance or any other source.
Section 1210(a) of the Disaster Recovery Reform Act (DRRA) (Division D of the FAA Reauthorization Act of 2018, Public Law 115-254) amends Section 312 of the Stafford Act to authorize the President, in certain limited circumstances and at the request of a Governor, to waive a duplication of benefit otherwise prohibited by Section 312. Importantly, the law does not require the President to issue a waiver. Instead, the President may issue a waiver if he determines a waiver is in the public interest and will not result in waste, fraud, or abuse.
The DRRA's amendment to Section 312 also changes what constitutes a duplication under Section 312 by prohibiting the President from considering a loan to be a duplication of benefit, provided that all Federal assistance is used toward a loss suffered as a result of a major disaster or emergency. This change regarding loans is independent of the new waiver provision, and is not subject to a 45-day response period that applies to waivers.
Pursuant to the amended Section 312, an SBA loan is not a prohibited duplication of benefit with a grant provided under the CDBG program, administered by the U.S. Department of Housing and Urban Development (HUD). As such, there is no duplication for the President to waive pursuant to the new Section 312 waiver procedures. However, the DRRA did not direct agencies to make any program or policy changes with respect to whether grant funds could be used for repaying SBA loans. Instead, whether particular federal grant funds are available for the purpose of paying down an SBA loan is a determination reserved for the grant awarding agency, pursuant to its program authorities and appropriations. I am therefore forwarding your request to HUD Secretary Carson for his consideration.
Thank you for your interest in disaster recovery. We look forward to continuing to work with you.
Sincerely,
Brock Long
Administrator
Date: 1-3-2019 Updated: 1-3-2019 Subject:
January 2, 2019
Dear Homeowner,
Over the last few weeks, the Restore Louisiana Homeowner Assistance Program has heard from many homeowners who have been anxiously waiting for progress on the federal duplication of benefits fix. The following information is intended as an update on previous actions and on the current status of this issue:
On Oct. 3, Congress passed legislation intended to fix the federal Duplication of Benefits (DOB) penalty that has kept homeowners from receiving full assistance from the Restore Louisiana Homeowner Assistance Program. Shortly after, on Oct. 5, President Donald J. Trump signed the bill into law and Gov. John Bel Edwards responded immediately by submitting a letter to Pres. Trump requesting a waiver of any requirements to consider Small Business Administration (SBA) loans as a DOB to funding appropriated by Congress to Louisiana through the Community Development Block Grant Program for disaster recovery. More recently, on Nov. 27, Gov. Edwards sent a letter to President Trump requesting action on the waiver
In response, on Dec. 21, FEMA sent a letter to Gov. Edwards indicating that the new federal law does not require the President to issue a waiver and prohibits the President from considering a loan to be a duplication of benefits, provided that all federal assistance is used toward loss suffered as a result of a major disaster. The letter also states that the U.S. Dept. of Housing and Urban Development (HUD), as the grant awarding agency, must provide policy guidance to indicate whether federal grant funds may be used to pay down/off an SBA loan. As such, the state must now wait for HUD's final guidance on the matter before we can proceed. Once HUD provides final guidance on the program's implementation requirements, the program will recalculate awards for active applicants who have an SBA loan to reflect this new guidance, whatever it may contain.
With the government shutdown underway, the timeline for any further action is unknown, and the upcoming change in leadership at the federal level in the House and Senate in early 2019 may cause additional delays. Although we are hopeful for a decision in the first quarter of 2019, the timeline may not be as soon as we had originally anticipated. HUD's guidance could potentially result in no change in assistance for homeowners who were approved for or received an SBA loan, or it may provide partial or full relief.
At this time, the state is standing by and has made the necessary preparations for whatever guidance and level of assistance may be issued by HUD. No action is required on behalf of homeowners at this time. We appreciate your patience as we await on further progress from our federal leadership.
Sincerely,

The Restore Louisiana Homeowner Assistance Program
>>> Resource Links <<<


Date: 1-3-2019 Updated: 1-3-2019 Subject:
Federal Emergency Management Agency
Louisiana Integration and Recovery Office (LIRO)
1500 Main St.
Baton Rouge, LA 70802
LA Newsdesk: 225-339-6602
December 23, 2018
Congressional Affairs Advisory
FEMA Housing Program Deadline Extended through April 30, 2019
BATON ROUGE, La. — At the request of the state, FEMA is providing survivors of the August 2016 flood with additional time to remain in agency - provided manufactured housing units (MHUs) as they complete the final steps of their recovery.
FEMA has extended the Direct Housing Program deadline to April 30, 2019. This fourth extension will allow eligible occupants to continue to work on their permanent housing plans. Based on the May and July 2018 extension requests,the current rental rate will remain in place through April 2019.
FEMA's housing program eligibility — and continued occupancy — is determined on a monthly basis for homeowners and on a bi-weekly basis for renters. To remain eligible, occupants must show they are making continuing progress on their permanent housing plan.
At the peak of the program, there were 4633 eligible households licensed into FEMA - provided mobile homes, placed across 16 parishes. Survivors have continued to make progress in finding more permanent housing solutions. To date, 4,251 households have moved out of MHUs while only 382 households remain in units.
FEMA caseworkers continue to meet regularly with mobile home occupants to support the hard work it takes to get back into permanent housing. They routinely guide occupants to available resources and advise them on program requirements, deadlines and more so there are no surprises.
Many homeowners are also actively participating in the Restore Louisiana Homeowner Assistance Program and will continue to work through their housing plans. This housing extension will allow homeowners more time to remain in their MHUs while construction is completed on their home.
FEMA officials urge occupants to complete or follow through on any requests they made ahead of this new extension.
Several Louisiana communities passed temporary zoning exemptions to permit FEMA mobile homes on private property. MHU occupants are encouraged to check with their local officials to make sure they are not in violation of local zoning ordinances.
# # #
Helping people before, during, and after disasters.
>>> Resource <<<


Date: 1-3-2019 Updated: 1-3-2019 Subject:
Freedom of Information Request: State of Louisiana DOA OCD-DRU Governors Office

A copy of public comments for each of the action plan amendments listed on the web page Great Floods of 2016 Action Plan and Amendments
To include action plan amendments not approved as well as approved by HUD.
APA 9 Version 2
APA 9 First edition changed issue $683 million placed on hold by director OCD-DRU.
APA 8
APA 7
APA 6
APA 5
APA 4
APA 3
APA 2
APA 1
Action Plan (Master) approved by HUD.
Date: 1-3-2019 Updated: 1-4-2019 Subject:
Date of request 6-28-2018:
Request a list of names, contract information, phone, email, mailing address of the following departments.
1. All current and active members assigned to the Restore Louisiana Task Force.
2. List of directors and their departments with contact information within the OCD-DRU.
3. List of Management within the OCD-DRU and Restore LA Contractors.
>>> Response by State of Louisiana DOA <<<
Date: 1-4-2019 Updated: 1-4-2019 Subject:
Date: 7-26-2018
Request the following information and information similar to the topic of the roles, actions, policy, and guidance the state of Louisiana Restore Task Force members follow.

It is unclear to what the actual purpose of the LA Task Force is and what it serves.
I would like documents that outline their roles in our Disaster Recovery any and all State Policies that they must follow as well as communications between the OCD-DRU and the Task Force members individually and as a whole related to discussions, agenda's and general business to which the task force is responsible.
>>> Response by DOA OCD-DRU State of Louisiana <<<
Date: 8-3-2018
Attached, please find the executive order pertinent to the Task Force. (JBE16-65.pdf attached document download)
The specific legal citations in the document can be searched at this link -https://www.legis.la.gov/legis/lawsearch.aspx
It will take a bit more time to collect communications – that requires IT efforts that I cannot directly control.
I will email you an update on time frame next week.
>>> Response by OCD-DRU State of Louisiana <<<
Date: 9-19-2018


We are currently searching documents in connection with your request below.
We expect to have our search complete by next Friday (Sept. 28, 2018).
Once I see the results from search, I will email you with an estimate on how long it will take me to review the documents.
>>> Response by OCD-DRU State of Louisiana <<<
Date: 9-28-2018

I estimate that it will take up to 3 weeks (Oct 19, 2018) to complete our review of the emails pulled in connection with your record request.

>>> Update 1-4-2019 no additional information provided as promised by the DOA OCD-DRU documents department. <<<


Date: 1-4-2019 Updated: 1-4-2019 Subject:
Date 7-31-2018
Request a copy of the official HUD letter that Governor Edwards references in his media release that HUD has approved the Action Plan Amendment 9 which was voted on July 13, 2018 during the scheduled Louisiana Task Force Meeting.
>>> Response by OCD-DRU Document department <<<
Forward document request to Stephen Kogos
Tue 7/31/2018, 8:16 AM
I will be out of the Office from Monday, July 30 through Friday , August 3. If you need immediate assistance, please contact Angela McCulloch at (225) 342-1037. Otherwise, I will respond to your communication when I return to the office on Monday, August 6.

>>> NO UPDATES <<<
Date: 1-4-2019 Updated: 1-4-2019 Subject:
Date 8-10-2018

Request the following documents and online locations of any new public records regarding meetings and agendas of the Restore LA Task Force.
Background: The Division has developed an online system for boards and commission to enter the information required by Act 12. Information is provided on each regulatory boards and commissions statutory authorization, contact information, member information, employee information, financial and budget information and the rules, regulations and procedures of the board. Meeting notices and minutes will also be posted as they become available throughout the year.
The Restore Louisiana Task Force Meeting Notices have not been updated since January 12, 2018 and the Meeting Minutes have not been updated since September 22, 2017.
I request copies of all Meeting Minutes since the last public post September 22, 2017 and request that you inform the DOA that public records regarding this Board / Commission has not been updated by its controlling members Lori Dupont and Erin Wesley.


>>> No Response to document requests <<<

Note: We had to actually email Lori Dupont and Erin Wesley and ask them to update the minutes and other data. This seemed to be a great deal of effort by them to publish a link.
Date: 1-4-2019 Updated: 1-4-2019 Subject:
* Your IP address 3.80.38.5 will be saved with your question and used only to prevent spam.
** Please be sure to include your email address and your name if you would like your question answered.