NOTICE OF PUBLIC MEETING Restore Louisiana Task Force Friday, July 13, 2018 9:30 am House Committee Room 5
Who is planning on going? Who would like to take part in the Public Comment period which is open for 50 minutes at the end of the meeting? Who needs a ride to the State Capital? Lets get our trip organized soon!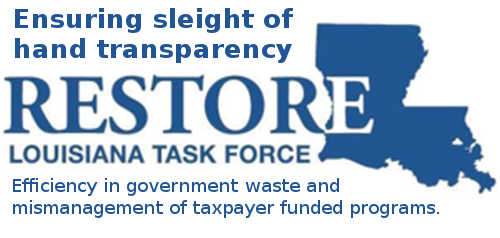 Military Heavy Equipment Operators
LA, FL, TX, PR, NC are receiving billions in US taxpayer dollars to mitigate against future flood disasters. We are looking to help your county or parish find the best clearing and dredging people. Contact us about your experience.
NOTICE OF PUBLIC MEETING
Res t ore Louisiana Task Force
The meeting of the Restore Louisiana Task Force has been scheduled for:
Friday, July 13, 2018
9:30 am
House Committee Room 5
State Capitol
900 North 3rd Street
Baton Rouge, LA 70802
If you need further information, please call
Lori Dupont (225) 342-1626
Trade Contractors Wanted!
We are looking for Skilled Trade Contractors for remodeling, repair, reconstruction and new construction of residential homes. You must be willing to work at 20% overhead / commission. Contact us today!.