Request for copies of missing Flood 2016 Contracts from OCDDRU Flood Contract page
Ensuring Transparency, Accountability, Efficiency and Open Public Communications is much more difficult with the state of Louisiana Department of Administration than you might think. No accountability even with their methods of asking for Public Records.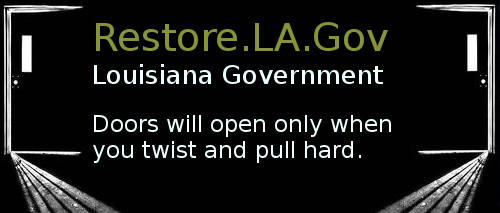 Trade Contractors Wanted!
We are looking for Skilled Trade Contractors for remodeling, repair, reconstruction and new construction of residential homes. You must be willing to work at 20% overhead / commission. Contact us today!.
Louisiana Sample FOIA Request
=================
[Your Name]
[Street Address]
[City, ST ZIP Code]

5-29-2018

Commissioner of Administration
PO Box 94095
Baton Rouge, LA 70804-9095
Email: doapublicrecords@la.gov

Dear Louisiana DOA Records Custodian:

Under the Louisiana Public Records Act § 44:1 et seq., I am requesting an opportunity to inspect or obtain copies of missing public records that are shown under the Flood Contracts page of the Office of Community Development - Disaster Recovery Unit website (http://www.doa.la.gov/Pages/ocd-dru/Flood-Contracts.aspx)
The following seven (7) companies have contracts with the state OCD-DRU department but the OCD-DRU has not made the contracts public via their 2016 Flood Contract page.

1. Franklin Associates, LLC ​​Louisiana Housing Corporation ​​2/12/2016 ​6/30/2019 ​​$7,143,250 ​$3,618,750 To perform environmental reviews and homeowner inspections. CDBG-DR funds represented are related to 2016 Flood Work. Other components of the contract funded through other sources.
2. Alpha Media and Public Relations ​(pending) ​NewCorp. ​5/28/2016 ​7/7/2016 ​$33,413 ​$33,413 ​Restore LA Marketing and Outreach
​
3. GrantAnalyst.com, LLC ​192237977 ​Louisiana Department of Agriculture & Forestry ​3/16/2017 ​3/15/2018 ​$6,100 ​$6,100 ​Online grant application management system
​Spears Consulting ​837070833 ​TruFund Financial ​5/15/2017 ​5/15/2018 ​$40,000 ​$40,000 ​Marketing/Public Relations spent as of 11.30.17
​
4. Start Corporation ​859805285 ​Louisiana Department of Health and Hospitals ​12/1/2015 ​6/30/2018 ​$2,802,482 ​$2,802,482 ​To provide support services required to help individuals rebuild their lives after homelessness, institutional care or other disruptions due to the Flood of 2016. (multiple sources of disaster funding)
5. Volunteers of America ​0750049916 ​Louisiana Department of Health and Hospitals ​12/1/2015 ​6/30/2018 ​$49,999 ​$49,999 To provide support services required to help individuals rebuild their lives after homelessness, institutional care or other disruptions due to the Flood of 2016. (multiple sources of disaster funding)
6. Westaff ​788265564 ​TruFund Financial ​5/4/2017 ​11/30/2017 ​$25,686 ​$25,686 ​Temp Services
7. Xerox Corporation ​137644035 ​Louisiana Department of Agriculture & Forestry ​10/16/2017 ​6/30/2018 ​$988 ​$988 ​Copy machine
If there are any fees for searching or copying these records, please inform me if the cost will exceed $_0.00_. However, I would also like to request a waiver of all fees in that the disclosure of the requested information is in the public interest and will contribute significantly to the public's understanding of the contracts and contractors hired by the state OCD-DRU group for the disaster recovery efforts DR-4277 and DR-4263.
This information is not being sought for commercial purposes.
Section 44:32(D) of the Louisiana Public Records Act requires a response within three business days. If access to the records I am requesting will take longer than that time period, please contact me with information about when I might expect copies or the ability to inspect the requested records.
If you deny any or all of this request, please cite each specific exemption you feel justifies the refusal to release the information and notify me of the appeal procedures available to me under the law.

Thank you for considering my request.

Sincerely,
=========================
Resources & Additional:
TITLE 44
PUBLIC RECORDS AND RECORDERS
CHAPTER 1. PUBLIC RECORDS
PART I. SCOPE
http://www.legis.la.gov/legis/Law.aspx?d=99632
Public Records Law FAQ for the state of Louisiana (PDF)
Q.5. How should the Public Records Law be construed?
A.5. Louisiana's Public Records Law should be construed liberally, with any doubt
resolved in favor of the right of access. First Commerce Title Co., Inc. v. Martin,
887 So.2d 716 (La. App. 2 Cir. 2004).
Q.12. Who is entitled to make a public records request? R.S. HTU44:31UT
A.12. Except as otherwise provided for by law, any person of the age of majority may
inspect, copy, or reproduce any public record, and any person may obtain a copy
or reproduction of any public record.
R.S. HTU44:31.1UTH limits the definition of person to exclude individuals in custody after
sentencing following a felony conviction who has exhausted his appellate
remedies if the request is not limited to grounds upon which the individual could
file for post-conviction relief under Code of Criminal Procedure Article HTU930.3UTH.
The limitation of R.S. 44:31.1 does not extend to the attorney representing the
incarcerated felon. Boren v. Taylor, 16-2078 (La. 6/29/17) – So.3d ---.
The number or length of records that an individual may request is unlimited,
except that the record must be available. The individual's right is not impaired by
use of the records to publish or distribute the information in a manner critical to
the public body. AG Op. No. 93-482, AG Op. No. 09-0298.
Q.14. What must be included in a request for public records?
A.14. The request need not include specific name or type of document requested; it is
sufficient that requester gives reasonable description of information sought.
Nungesser v. Brown 664 So.2d 132, (La. App. 1 Cir. 1995). * reversed on other
grounds.
The request may be made in person during regular business hours or requested by
letter. Elliot v. District Attorney of Baton Rouge, 664 So.2d 122 (La. App. 1 Cir.
1995).
Q.15. To whom should a request for public documents be made?
A.15. All requests for public documents should be directed to the custodian of the
particular public record.
Q.16. What are the duties of the custodian? R.S. HTU44:31UTH, HTU44:32UTH, HTU44:33UT
A.16. R.S. HTU44:31HUT states that it is the responsibility and duty of the appointive or elective
office of a custodian and his/her employees to provide access to public records.
R.S. HTU44:32UTH requires that the custodian present any public record to any person of
the age of majority who so requests. Further, the custodian shall make no inquiry
of any person who applies for a public record, except an inquiry as to the age and
identification of the person.
A custodian may make inquiries as to whether an individual falls within
the exclusions of R.S. HTU44:31.1UT concerning requests from individuals in
custody for a felony conviction who have exhausted their appellate
remedies. The custodian can inquire as to whether the requestor is in
custody for a felony conviction, has exhausted his appellate remedies, and
whether the request is limited to grounds for post-conviction relief under
CCRP 930.3.
The custodian shall extend to the requestor all reasonable comfort and facility for
the full exercise of the right granted under Chapter 2 of Title 44, provided that
nothing prevents the custodian from maintaining such vigilance as is required to
prevent alteration of any record while it is being examined.
If any record contains material that is not a public record, the custodian
may separate the nonpublic record and make the public record available
for examination.
For all public records, it is the duty of the custodian of the public records to
provide copies to persons requesting.
No fee may be charged to any person to examine or review any public
records, except as provided for under R.S. HTU44:32UTH(C), and no fee may be
charged for examination or review to determine if a record is subject to
disclosure, except as may be determined by a court of competent jurisdiction.
If a record is requested and the custodian raises a question regarding whether or
not the requested record is a public record, the custodian must within three (3)
days, exclusive of Saturdays, Sundays, and legal public holidays, of receipt of the
request, notify in writing the person making the request of the custodian's
determination and reasons therefor. The written notification shall contain a
reference to the basis under the law that the custodian has determined exempts the
record, or any part of the record, from inspection, copying, or reproduction.
Under R.S. HTU44:33UTH a custodian must segregate any requested public record from the
other records under his/her custody so that the public can reasonably view the
requested record.
If segregating the record would be unreasonably burdensome or
expensive, or if the record requested is maintained in a fashion that makes
it readily identifiable and renders further segregation unnecessary, the
official shall so state in writing and shall state the location of the requested
record.
See AG Op. No. 09-0298 for a discussion of the duties of the custodian.
Do you all know Cunningham's Law?
"The best way to get the right answer on the internet is not to ask a question; it's to post the wrong answer."
Don't allow misleading or misinformation to cost you. Nearly all of the wrong answers come from not knowing where and how to search for the correct answers.