Not all Federal Grant Dollars that are classified a Duplication of Benefits counts against you.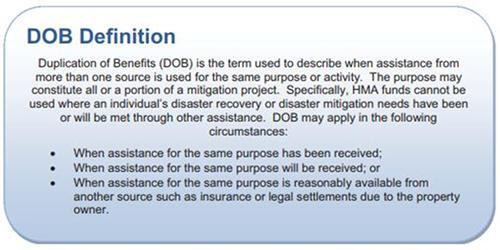 By: Supervisor

(Contributor)

293 views
Location: LA
DR-4277
DR Date: 9/13/2016
Published:

5-31-2018

Updated:

12-15-2018

Disaster: Floods and flash floods
Dept.: FEMA
If you have had any experience with a natural disaster you know the term "Duplication of Benefits". But do you know they are not always the same when it comes time to tally up the grant money and assign it to your recovery project?
Contributing, Always a Two-Way Street.