All areas within the disaster state are offered assistance under the Hazard Mitigation Grant Program
After Hurricane Gustav many had forgot about the HMGP offered by FEMA. By the time Isaac cleanup was over the window to apply for these disasters for elevation and acquisitions were over. Dont miss out on your opportunity to use grants to mitigate damage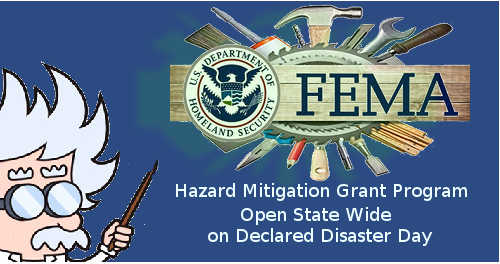 Do you all know Cunningham's Law?
"The best way to get the right answer on the internet is not to ask a question; it's to post the wrong answer."
Don't allow misleading or misinformation to cost you. Nearly all of the wrong answers come from not knowing where and how to search for the correct answers.
All areas within the State of South Carolina are eligible for assistance under the Hazard Mitigation Grant Program.
Your best resource is actually FEMA directly.
We do have many homeowners using HMGP Elevation for the declared 2016 and 2017 disasters the state of Louisiana suffered. I want to be sure everyone in North Carolina as well as all those in the 117 disasters after DR-4277 understand that you can and should mitigate after each disaster even if your area was not impacted.
You should have a state flood plan manager or even a city, county or parish planner that can advise you.
Call your state representatives if you seem to run into a brick wall.
Best Resources:
If you are using the HMGP and would like to share your story please use the contact page to send a brief summary with your location. We will follow up with our Recovery email address so you can submit pictures and your story as you are mitigating or after you have completed your hazard mitigation.
Watchdog Moderators:
You spend countless hours researching disaster recovery for the citizens of your state. You research your state leadership and it's workforce on all matters associated with disaster recovery. You make it your concern to help others by providing much needed information. You take all disaster recovery issues facing homeowners today and make them your Matters Under Review. If this sounds like you, visit Matters Under Review (MUR) for more information.