2016 Flood victims waiting nearly 3 years could see their grants terminated by next Wednesday, July 31, 2019.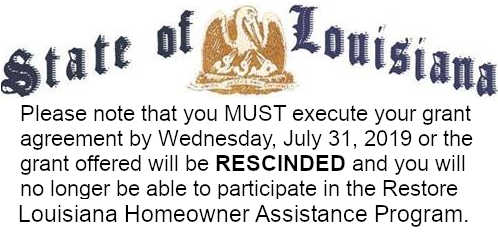 By: Murray_Wennerlund

(Contributor)

284 views
Location: LA
DR-4277
DR Date: 9/13/2016
Published:

7-25-2019

Updated:

7-26-2019

Disaster: Floods and flash floods
Dept.: OCD-DRU
State of Louisiana OCD-DRU announces via Email, Phone call and Postal Mail to homeowners that their grants will be rescinded if they do not close on the grant award by July 31, 2019.
Contributing, Always a Two-Way Street.