Risk of Bankruptcy Hundreds of Louisiana and Texas families are regretting ever applying to FEMA and SBA.
SBA continues to lower its minimum income levels. SBA during an 2018 audit by the Office of Inspector General identifies training the issue SBA offered loans to 2016 Louisiana Flood Victims that have no possible way of repaying the loan.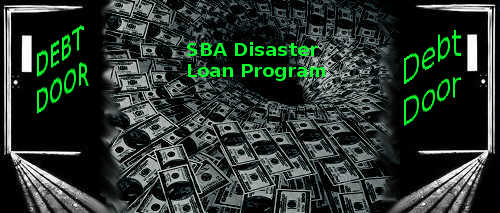 Military Heavy Equipment Operators
LA, FL, TX, PR, NC are receiving billions in US taxpayer dollars to mitigate against future flood disasters. We are looking to help your county or parish find the best clearing and dredging people. Contact us about your experience.
SBA continues to be a haunting reminder of the 2016 disasters in the state of Louisiana. By providing low income households loans without regard to the ability to repay has setup Louisiana Flood survivors as future bankruptcy victims of the Federal Disaster Loan Program distributed by the Small Business Administration (SBA).
SBA sold the disaster loan system to flood victims desperate to find money for their recovery.
FEMA sold the idea of additional grant money to those that did not qualify for SBA loans.
SBA reported to all federal, state and other agencies the amount of the loan and the status of loan to disqualify low income families and moderate income families from CDBG-DR funds as part of their loan process and procedures.
Soon neighbors that were devastated by the historical 2016 floods will be abandoning their homes due to serious debt burden the Governor of the State of Louisiana promised he would address when asking the federal government for disaster relief funds.
Today with new policy to restrict access to money by the low and moderate income households of Louisiana debt and poverty is surely to overwhelm already debt stressed communities.
Are their any policies designed to protect the community from a serious and real threat of blight?
Office of Inspector General's (OIG's) Report on the Most Serious Management and Performance Challenges Facing the Small Business Administration in Fiscal Year 2018.
(SBA_OIG_Report_18-01.pdf)
"We also are concerned that SBA does not limit the proportion of a borrower's gross income that may be relied on to service debt, potentially leaving borrowers with insufficient income to cover living expenses, taxes, and loan payments."
"Maximum Allowable Fixed Debt May Be Exceeded, Limiting Borrower's Ability to Repay Disaster Loans."
"...SBA exceeds its normal home loan debt-to-income lending parameters, potentially straining and/or limiting the borrowers' ability to repay the disaster loans."
"SBA's disaster assistance home loan rules do not specify an upper limit to the proportion of a borrower's gross income that may be relied upon to service debt."
"Allocating too much of the borrower's income for debt servicing could result in the borrower having insufficient income to cover unavoidable living expenses, such as health insurance, utility bills, and taxes."
Trade Contractors Wanted!
We are looking for Skilled Trade Contractors for remodeling, repair, reconstruction and new construction of residential homes. You must be willing to work at 20% overhead / commission. Contact us today!.