American Rescue Plan Act Duplication of Benefits concerns and alerts
SVO Grant is a duplication of benefits with the SBA EIDL and any PPP Draw. A duplication of benefits occurs when your business including self-employed gig workers receives financial assistance which can be in the form of federal secured loans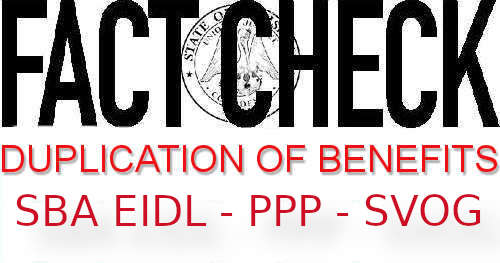 Trade Contractors Wanted!
We are looking for Skilled Trade Contractors for remodeling, repair, reconstruction and new construction of residential homes. You must be willing to work at 20% overhead / commission. Contact us today!.
SVO Grant is a duplication of benefits with the SBA EIDL and any PPP Draw. A duplication of benefits occurs when your business (including self-employed gig workers)receives financial assistance which can be in the form of federal secured loans (SBA EIDL) or US Treasury secured loans (PPP) or Federal Grants (SVOG) from multiple sources (PPP,EIDL,SVOG) for the same purpose, and the total assistance received for that purpose is more than the total need for assistance.
"The American Rescue Plan Act also revises section 324 of the Economic Aid Act to provide that businesses that receive a PPP loan after December 27, 2020 are no longer ineligible for a Shuttered Venue Operator (SVO) Grant under certain conditions.
Specifically, if a PPP borrower receives a First Draw or Second Draw PPP Loan after December 27, 2020, the amount of any subsequently-approved SVO grant will be reduced by the amount of the First Draw or Second Draw PPP Loan. (If a PPP borrower receives both a First Draw and a Second Draw PPP Loan after December 27, 2020, the amount of any subsequently-approved SVO grant will be reduced by the combined amount of both PPP loans.)
However, because sections 7(a)(36)(U) and 7(a)(37)(A)(iv)(III)(ee) of the Small Business Act were not amended by the American Rescue Plan Act, if a PPP applicant is approved for an SVO grant before SBA issues a loan number for the PPP loan, the applicant is ineligible for the PPP loan and acceptance of any PPP loan proceeds will be considered an unauthorized use."
The PPP loan can not actually be processed if you are processing a SVO Grant. It is one or the other and they will eventually cancel each other out. If you are approved both PPP and SVOG their will be a recapture order given which could add additional conditions and completely cancel one if not both services. If the PPP amount is less than the SVOG amount the US Treasury could make a rule to cancel the older application which might be your SVOG no matter the amount. This would lead to additional issues. From my experience with SBA loan processing after disasters and the control review for the duplication of benefits it is in my opinion to suggest applying only for the SVOG if that grant applies to your business. Otherwise, apply for the PPP and not the SBA EIDL or SVOG. Apply for one but not all to secure the best assistance.
Question: 5. Is an entity that applied for a First Draw or Second Draw PPP loan on or after Dec. 27, 2020, eligible to apply for an SVOG?
Answer: No. Both examples would not be eligible to apply for an SVOG unless and until the PPP loan application (whether First Draw or Second Draw) is declined.
Research Resources
Do you all know Cunningham's Law?
"The best way to get the right answer on the internet is not to ask a question; it's to post the wrong answer."
Don't allow misleading or misinformation to cost you. Nearly all of the wrong answers come from not knowing where and how to search for the correct answers.