Restore LA OCD-DRU Official Elevation Allowance Calculator for approved elevation reimbursement
HUD CDBG-DR Grant Denied?
Did your state inform you that you qualify for federal assistance only to later deny you assistance based on state created policy or procedure? Is your home listed as being in one of the most impacted areas? Do you have proof your state accepted you into the federally funded HUD CDBG-DR grant program? Contact us about your experience.
Disaster victims that were forced to demolish their homes and elevate above Base Flood Elevation plus 2 feet were sent a Restore LA OCD-DRU Solution 2 Reconstruction and Elevation Allowance calculator Using price per SF change for elevation > 3' spreadsheet converted to a PDF displaying your total elevation allowances from HUD's CDBG-DR grant program.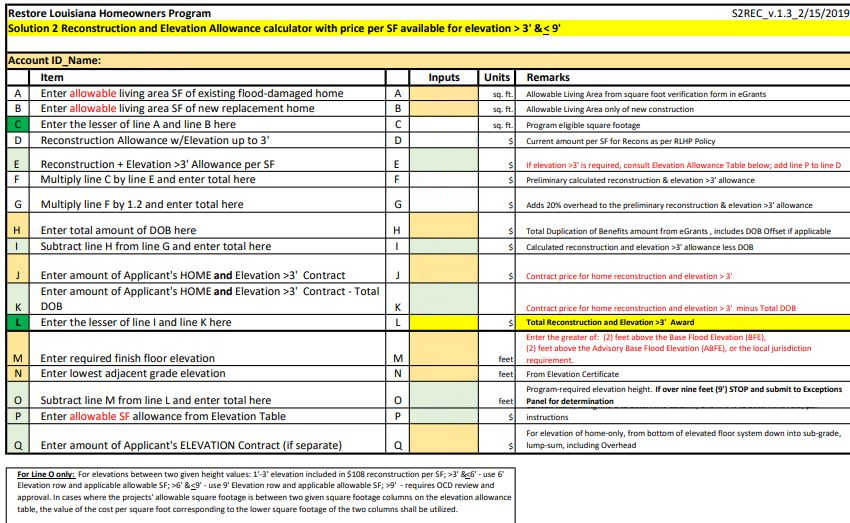 You may have needed to ask your case worker, case manager or CTA for a copy of this spreadsheet. The spreadsheet was created Feb. 14, 2019 for a couple of homeowners that needed to verify the state was going to aware the additional costs of reconstruction.
Management has long fought not to provide elevation calculations similar to this spreadsheet to Manufactured Home owners and select elevation practices seem to be excluded from the calculation. (Fill Dirt, Abandonment of First Floor)
You can download a copy of our Solution 2 Reconstruction and Elevation Allowance calculator using price per SF change for elevation > 3'. workbook and / or you can use the online calculator that will show your grant adjustment if your elevation is correct.
Resources
Trade Professionals
We have hundreds of homeowners looking for experienced trade professionals. We only ask for proof you are who you say you are. It's time you publish your work, from start to finish and show details so we can all see your quality. Homeowners are sick and tired of day labor contractors. Follow this link to create your account.
---
Recent Articles
Published Fri Sep 10 2021 viewed 48 times.
Published Thu Sep 9 2021 viewed 149 times.
Published Wed Sep 8 2021 viewed 329 times.
Military Heavy Equipment Operators
LA, FL, TX, PR, NC are receiving billions in US taxpayer dollars to mitigate against future flood disasters. We are looking to help your county or parish find the best clearing and dredging people. Contact us about your experience.
New Research
Published Wed Aug 11 2021
Trade Contractors Wanted!
We are looking for Skilled Trade Contractors for remodeling, repair, reconstruction and new construction of residential homes. You must be willing to work at 20% overhead / commission. Contact us today!.
Do you all know Cunningham's Law?
"The best way to get the right answer on the internet is not to ask a question; it's to post the wrong answer."
Don't allow misleading or misinformation to cost you. Nearly all of the wrong answers come from not knowing where and how to search for the correct answers.
Results of a Perfect Project. From one generation to the next, we know if your project is designed perfectly you will have perfect results no matter if it's 1928, 1995 or 2021.